Note: If you want to print the flyers attached below, it is best to download the PDF and then print that document. If you preview in your browser and try to print the formatting may get messed up.
26th Annual Holiday Marathon Meeting
Presented by Inner South City District
When: Monday, December 24, 2018 10:00 a.m. until 9:00 p.m.
Where: Jackson Park Hospital, 7531 So. Stony Island (Basement)
Volunteers Needed For: Secretary – Minimum 3 months sober
Speaker – Minimum 1 year sober
Working knowledge of the 12 steps
We are asking that GSR's submit names of volunteers from their meetings and turn the list in at the December district meeting being held on December 1, 2018,  this will be the deadline for submitting names.
As usual, we are also asking that any donations of refreshments be brought directly  to the marathon meeting. All donations of refreshments and/or paper goods will be welcomed and appreciated.
holiday marathon meeting flyer 2018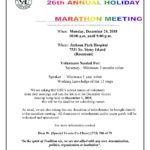 Big Breakfast
Presented by the Illinois Area Convention Committee
We'll be serving up waffles, pancakes, bacon and sausage. Wash it down with some hot coffee or juice and plenty of great fellowship and a speaker.
Messiah Lutheran Church
1605 Vernon Ave.
Park Ridge, IL
Saturday, January 12th, 2019
9:00 a.m. – 12:00 p.m.
9:00 Coffee and Socialize
9:30 Breakfast
10:30 Speaker
$15.00 Adult Pre-sale
$17.00 Adult Door
$7.00 Children 12 and under – Pre-Sale or Door
$7.00 Halfway House Residents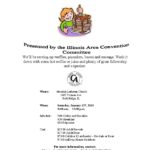 2019 Illinois Area Unity Convention
Presented by the IACA Convention Committee
Doubletree Hotel Chicago
Oak Brook
1909 Spring Road
Oak Brook, IL 60523
Friday February 22nd thru Sunday February 24th, 2019
Entertainment on both Friday and Saturday night!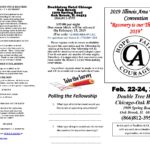 2019 Illinois Area Unity Convention: Silent Auction Fundraiser
Presented by the IACA Convention Committee
We are requesting CA members to donate new merchandise, or memorabilia from previous conventions for this silent auction and gift baskets.  Please have all items for donation in by February 12, 2019
Maurice S. (630) 240-9113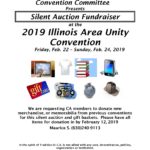 2019 Illinois Area Unity Convention – LOGO CONTEST
Presented by the IACA Convention Committee
Submit a logo for the 2019 IACA Unity Convention and you could win a free registration to our convention and a piece of memorabilia   
(Winner will be the logo that is selected by the committee)
The Theme is "Recovery is our Thing in 2019"
Specifications:
Logo can be submitted electronically or on paper, but hand-drawn logos should be clean and reproducible*.
Logo should have no more than 3 colors (black & white with 3 additional colors)
*Your logo may be modified to meet reproduction requirements
Email entries to mes916@comcast.net
OR snail-mail to:
IACA Unity Committee
Logo contest
P.O. BOX 300745
Chicago, IL 60630