"A Spiritual Invitation"
The Illinois Are Unity Committee Presents
Where: St Mary's Retreat House 14230 Main St. Lemont, IL.
When: September 14th-16th Check in Friday 4:00
Cost: $110.00 for room and board, all meals and all activities.
Registration forms are available at all C.A. meetings.
Here is where recovery, fun and spirituality collide. Further your spiritual progress at our annual spiritual retreat. Discover personal and spiritual growth while enjoying life away from the everyday stress and worries.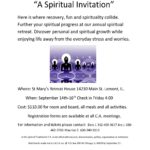 Oodles of Noodles
Illinois Area Convention Committee Presents
Where: Fox Valley Fellowship Club, 712 Orchard Ave, Aurora (Behind the Pizza Hut)
Date: Saturday, September 29th 2018
Time: 4-6:30pm
$10 per person
$5 Children under 12/Halfway House Residents
Open speaker meeting at 7pm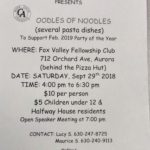 CA Unity Picnic
The Illinois Unity Committee presents
When: Saturday, September 22nd from
Where: Miller Park. 1020 S. Morris Ave. in Bloomington, IL
Time:1:00PM until 5:00PM
There is a public zoo and a playground for the kids. There will be music, cards, volleyball and several speakers plus a 50/50 drawing. Come out in the spirit of unity and enjoy the food, fun and fellowship. Cost is $5.00 for food and drink. Treatment center/halfway houses are free. Bring a dish or dessert to share.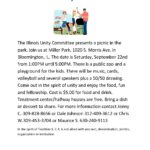 Chili Cook-Off
The IACA Special Events Committee
PRESENTS
When: Saturday, October 13, 2018
Where: Recovery House, 4704 W. Irving Park Rd.
Time: 2:00 p.m. to 6:00 p.m
Adults $10.00 $12.00 at the door
Kids $5.00
CONTESTANTS are FREE!
Great tasting Chili w/ all of the toppings. Beverages, Hot Dogs & Hot Tamales for sale.